Bio :: News :: Testimonials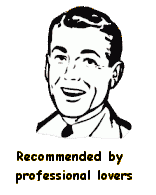 Sexbomb Nagasaki has changed the lives of many people around the world. And we are about to change your live too!
But why should you believe the self proclaimed Great Artistes of Punkrock? Well, you don't need to. Listen to what other people say!
In the past few years we have received thousands of fan mails from throughout the galaxy. We are sure that just a few of them can convince you too!

Dr. Ruth Moehrmann (Bob Hope University Hospital): "Where science fails, Sexbomb Nagasaki succeeds! Finally there is a cure that makes people feel happy about love sickness and hyperconsumption."

Bill (The Six Billion Dollar Nerd): "Sexbomb Nagasaki is a 'must listen' for every computer programmer. They ain't perfect, but they keep on running. They learned me to appreciate bugs and crashes. Furthermore, I learned that LOVE is more than a hexadecimal number. (I suspect, it's in Unicode.) Yes, Sexbomb Nagasaki is a true window on the world!"
Arnold (Brainless Wonder): "They must be philosophers. They kept saying: 'Think Conan, think!' I am still trying."

Professor Stanson (Historian and Expert on Everything): "Julius Ceasar, Jesus Christ, Charlemagne, Christoffer Columbus, Admiral Nelson, Winston Churchill and Sexbomb Nagasaki. That is pretty much human history in a nutshell, I believe.
After listening to Sexbomb Nagasaki it is hard to imagine that history has not been completed.

Sue and Lianne (former frigids): "We used to be afraid of boys and we were really scared by love. Listening to Sexbomb Nagasaki songs changed all that. We turned into liberated love loving ladies. Thanks boys, we owe you a lot!
PS, when we dance on Sexbomb Nagasaki songs, we like to do it butt naked!"

Stephen (the 'Sauerkraut Snob'): "Just two words: Sexbomb Nagasaki! Everything else is so passé."